The Internet of Things continues to come of age with a greater impact on our day-to-day lives. You may be using it in your home now through the use of smart thermostats and security systems. Many manufacturers use it for preventive maintenance to identify potential failures before they happen.
In the case of inventory management, All Printing Resources' SupplySentry can utilize IoT by placing a sensor-based solution under a bin of material on a stationary rack or shelving unit. We utilize this for some smaller items such as tapes or safety supplies where it is not practical to individually tag these types of SKUs. The sensors monitor on-hand quantity real-time intervals. If the weight falls below a minimum, a replenishment order requirement alert is triggered and a replenishment order suggestion, up to the pre-determined maximum, is sent to SupplySentry and the customer. Nobody must visit the location to evaluate whether inventory is required. The utilization of these sensors is typically combined with the tracking of full box quantities as well. These bins can vary in size depending on what is best for the material being inventoried.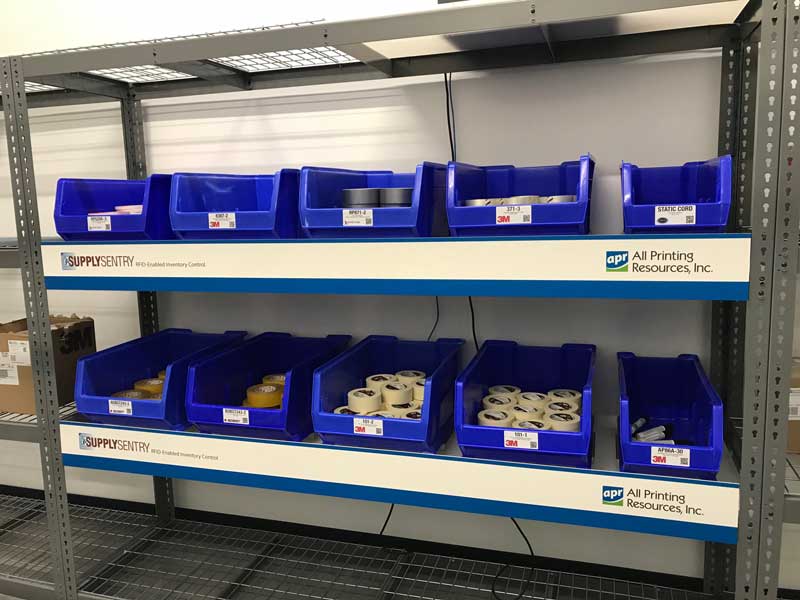 It is important to note that SupplySentry combines these "smart shelves" with human supervision and human decision-making to review worthy data patterns discovered through the AI algorithms thus improving overall dependability.
One of the fundamental benefits of deploying an inventory management system using IoT is that communication is improved. It enables you to always get accurate information in the most efficient form saving both time and money.
All Printing Resources' (APR) SupplySentry continually monitors the stock in inventory for such products as stickybacks, tapes, doctor blades, safety supplies, and much more, so it always knows just what you have on hand. The system automatically re-stocks the supplies that you absolutely need to get your job done without you having to spend as much time to do so. Years of a proven track record with APR's SupplySentry has created true trust with our clients. For more information or to set up a demo on how SupplySentry may be a fit for you, please go to: https://supply-sentry.com/request-a-supplysentry-demo/.