Keep All Your Plates Spinning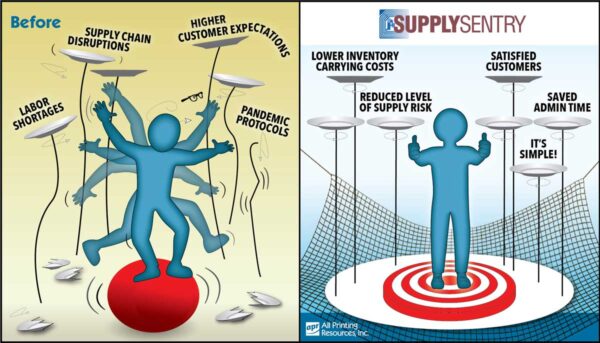 When I was growing up in the Chicago area, one of the most popular daytime kid shows was Bozo Circus (yes, I am old). On occasion, the guest act would be a plate spinner. You know the routine; as he added more and more spinning plates, the suspense would build as he would just make it to the plate about to fall and crash to the ground.
The demands on today's package printing operation remind me of this act. Keeping all the plates spinning is a difficult task in normal circumstances. Add today's challenges of supply chain disruptions, labor shortages, higher customer expectations, and pandemic protocols, and you have even more spinning plates to what was already a stressful environment.
Keeping all these plates spinning with positive momentum is much easier if you have help and support. We have assisted our SupplySentry customers by keeping careful track of their supplies inventory in real time to make sure they do not run out of critical items to keep their presses running. Think of it as a safety net under the plates in case you cannot get to it in time. Supply chain issues have been a real challenge over the last few months, with so many suppliers missing promised delivery dates or, in many cases, unable to give us definitive information. Having real-time data along with predictive analytics has been a real asset in communicating with our SupplySentry customers to make sure we keep them supplied.
For more information about how SupplySentry can "keep all your plates spinning", please request a demo.