Supply chain management is often slow to change. Many companies still use Excel spreadsheets to plan their inventory needs. This is especially true for ancillary production items. In flexo printing, these items include mounting tapes, splicing tapes, doctor blades/end seals, cleaning supplies, safety supplies, pump hoses, and many more similar items. Previous thoughts were, "If it isn't broken, there's nothing to fix."
But as we all know, things have changed. The seemingly never-ending logistics issues brought on by the pandemic, labor shortages, increasing port congestion, truck driver shortages, and devastating weather events are wreaking havoc on supply chains around the globe. These developments now require bringing in increased orchestration and advanced planning into the mix, so we can weather the current supply chain issues and react quickly to opportunities and disruptions as they appear.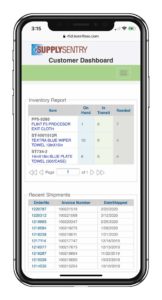 COVID amplified everything. Visibility of inventory has become so much more important, and beyond visibility, we must tie this into timely replenishment execution. An easy way to think of it is the system should be able to plan, track and adjust, so we not only always know where our inventory is, but we can change course as needed. Visibility and execution working in tandem give supply chains agility. Agility allows us to make changes on the fly to overcome logistics and supply chain disruptions.
More than ever, we need to be creating automatic procedures instead of relying on manual work and streamlining operations wherever feasible. Real-time inventory visibility simply means knowing what inventory you have on hand and where that inventory is located at any given moment. Improving your inventory visibility means creating a more accurate picture of your current inventory levels to eliminate shortages or carrying too much.
Having visibility to this real-time inventory data enables the system to display it on dashboards across multiple locations within a facility or among multiple facilities. Improved inventory visibility allows you to see trends more clearly. With a consolidated view of real-time data about your inventory, your business can make quick decisions that can save money.
SupplySentry provides visibility into real-time metrics to avoid unnecessary risks. Giving real-time visibility to all the inventory can prevent issues before they occur. Multiple reports are available to show trends and other valuable information—even on your mobile device. In addition, the system automatically re-stocks the supplies that you absolutely need to get your job done without you having to spend as much time to do so.
For more information, see the infographic that depicts how many customers have described to us the way that SupplySentry has made their life easier: Workflow Before and After SupplySentry.