Supply Chain and Labor Challenges add to Complexity of Inventory Management
We have all now experienced supply chain challenges far beyond what any of us would have guessed months ago. With the threat of disruptions continuing, such as recent lockdowns in China show us, what we have learned the hard way is that we must have long-term strategies to deal with these disruptions to mitigate future vulnerabilities.
At the same time, most companies face staff shortages, which often means missing the person responsible for managing inventory. This has put additional stress up and down the manufacturing process. This goes beyond finding employees to other challenges such as inconsistent attendance. For some companies reporting in a recent manufacturing survey, it is not uncommon for managers to have to adjust production schedules every day to account for unplanned absences.
While cost and efficiency always remain essential factors, new strategies are required to replace what were typical practices, such as lean inventory and consignment programs. The new challenge is to find ways to ensure not running out of critical production items without building too much excess inventory. We also need to be augmenting our teams by leveraging data and capabilities that proactively monitor inventory requirements.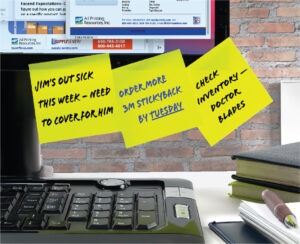 How can organizations minimize the risk of running out of necessary items such as pressroom supplies and yet still reduce the labor burden on those employees accountable to ensure the presses are running efficiently? The answer can be found in technology that delivers easily accessible real-time data on what is in the supply chain and having a trusted supply partner to support your team's efforts to maintain the proper amount of all critical supplies.
Real-time inventory visibility means knowing what inventory you have on hand and where that inventory is located at any given moment. Improving your inventory visibility means creating a more accurate picture of your current inventory levels to eliminate shortages or carrying too much.
Having access to this real-time inventory data lets the system display it on dashboards across multiple locations within a facility or among multiple facilities. Improved inventory visibility allows you to see trends more clearly. With a consolidated view of real-time data about your inventory, your business can make quick decisions that can save money.
SupplySentry provides visibility into real-time metrics to avoid unnecessary risks. Giving real-time visibility to all the inventory can prevent issues before they occur. Multiple reports show trends and other valuable information—even on your mobile device. In addition, the system automatically re-stocks the critical supplies that you need to get your job done without you having to spend as much time to do so.
In addition, every SupplySentry installation is assigned an Account Manager. This gives an extra set of eyes watching to make sure you never run out of critical supplies – even when there may be unexpected changes in usages.
Now is the time to strategically assess and improve your supply chain to strike a balance between cost, efficiency, and resiliency. Here's where you can start to learn to see if SupplySentry could be a fit for you:
Call us at 1-800-445-4017, or visit supply-sentry.com to learn more about how APR can cure your supply headaches.