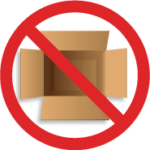 Imagine a world where the supplies you need are always waiting on your shelf. No more scrambling to find a roll of the stickyback that you need to mount the plates for that rush job for your most important customer.
SupplySentry continually monitors the stock on your shelf, so it always knows just what you have on hand. The system automatically re-stocks the supplies that you absolutely need to get your job done.
When you sign up for SupplySentry, we work with you to understand the products that you need and to set the quantities of each item you need to have on hand. Over time, the system learns your usage patterns and uses special AI logarithms to determine the amounts you will need at any time. We determine the minimum, maximum, and re-order quantities that the system uses to prepare your replenishment shipments.
When your supplies start to get low, the SupplySentry system automatically creates a replenishment order to top off your supplies. The system sends an order approval notice to you, you approve it, and the order is prepared and shipped to you.
If you have certain supplies that you always need to have on hand, you need SupplySentry watching over your supply inventory!
Click to view a list of products we can monitor with SupplySentry.