Just-in-Time or Just-in-Case or Just Right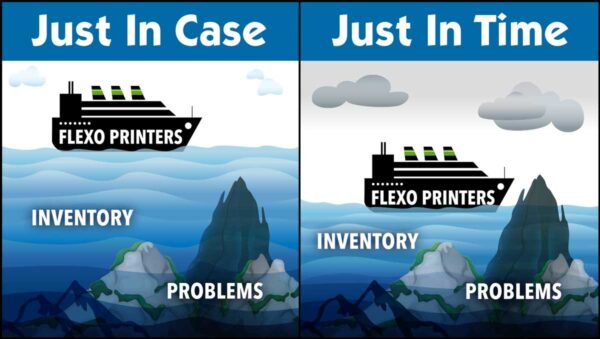 There are typically two major types of inventory management: "just-in-time" and "just-in-case." While a Just-in-Time system is highly efficient and frees up capital, it can be easily derailed due to the uncertainties caused by unknown disruptions — especially if it is working without real-time inventory information. It can also result in higher freight cost for multiple or rush shipments.
Just-in-Case also has its downsides. Its robustness and ability to protect against outages, rush shipments, or backorders comes at a cost of tying up capital in inventory and taking up much-needed floor space. JIC can also be slow to adjust when needed, such as if you need to make a product change for performance requirements. In the current environment, with so much uncertainty around inventory and supply chain disruptions, many companies are being forced to keep more inventory on-hand than usual.
Each has its place, but companies rarely work strictly with one or the other; their inventory management usually falls somewhere between these two extremes. So which strategy is the correct one?
A Hybrid – Just Right
To successfully reap the benefits of both systems and build resiliency into your supply chain, you need tools and knowledge to enhance your inventory visibility, increase agility, and minimize your risk. You need an inventory management system that is Just Right.
In order to maintain the agility of a Just-in-time system but the assurances of Just-in-case, it's essential to have access to both historical and real-time data about your supply chain. With increased visibility, you will be able to better forecast risks or disruptions that may impact your business.
To experience improved efficiencies, increased inventory control, elimination of misplaced items, and responsiveness you need increased end-to-end visibility. By utilizing RFID technology combined with predictive analytics as part of the process to forecast appropriate stock levels, you can more accurately detect your inventory needs, thereby reducing unnecessary inventory and operating more efficiently during hectic periods. The combination of RFID and predictive analytics evaluates the demand and improves planning, giving you more peace of mind and confidence the products required to run your press room will be there when you need them. It also can cut down the likelihood of having too many items on hand which can impact space utilization and increase working capital investments.
All Printing Resources' (APR) SupplySentry uses real-time data along with predictive analytics that can dynamically reset min/max/reorder points to assist us in managing the supply chain for our customers, allowing us to optimize the amount of inventory kept on the floor as well as reduce freight costs. SupplySentry is Just Right.